Lots of great updates to share!
1) Jon has just returned from a week at the University of Wisconsin getting the GLM model calibrated for FCR; we are super close to getting the plankton succession up and running for our favorite reservoir!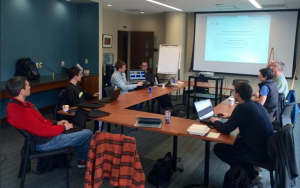 Jon showing off his beautiful FCR thermal structure; photo credit to Grace Hong @GLEONetwork
2) Kate received a prize for her poster at the 2015 Biological Sciences Research Day- congrats!
3) Alex was chosen as the 2015 College of Science's Outstanding Masters Student- woohoo!  This is a great honor and we're super proud of all of her accomplishments.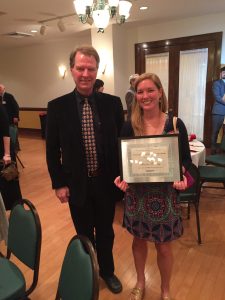 Alex and our favorite civil engineer professor, John Little, at the awards banquet.
4) Jon, Kate, and Cayelan took a road trip with the Stream Team's eminent Dr. Jack Webster and spent some quality time helping Jack sample streams at Coweeta Hydrological Lab in mid-March.  We toured the Smokies on our way home and ate lots of barbecue.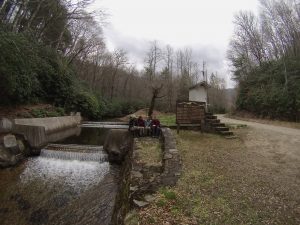 Jack, Cayelan, Kate, and Jon at Coweeta, photo credit to Kate's new GoPro!
5) The lab has three new papers out; check our website's Publications page.
6) Cayelan just returned from the PRAGMA conference in Nara, Japan in early April and gave a talk with GRAPLE colleagues Renato Figueiredo, Ken Subratie, and Paul Hanson.  She enjoyed a lightning fast 48 hrs in Japan, especially the cherry blossoms.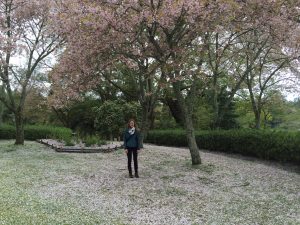 Cherry blossoms! Photo credit to Renato.
7) Our field season is in full swing!  We've picked up our magic sensor from good colleague Dr. Francois Birgand at NC State and have successfully deployed it in FCR.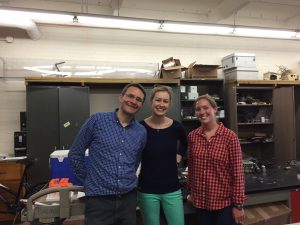 Francois, Cayelan, and Alex- we love the magic sensor! Photo credit to Bryan Maxwell, Birgand grad student extraordinaire.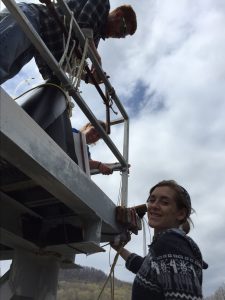 Zack, Alex, and Kate in the boat, figuring out wiring.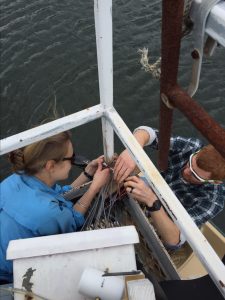 Teamwork makes the dream work (photo credit to Alex)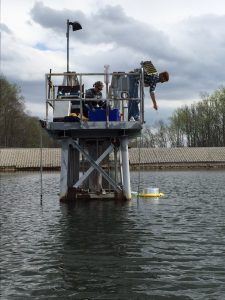 We are doing *all* the science at the catwalk.
8) Perhaps most exciting, we are being joined by Ryan McClure, a new grad student in the Carey Lab.  Ryan is currently working on the Guppy Project in Trinidad and has several years of experience working in streams in Trinidad, Iceland, and at Montana State in Wyatt Cross' lab.  We are super excited to have Ryan join us in June- more updates to come!